General information
Glulam is short for glued laminated timber and is a mass timber product which is common to use for engineered timber structures. It is made of different thin wooden boards, which are bonded to one bigger beam with a durable, moisture resistant adhesive. The varieties of designs and shapes are almost limitless. These products are used as simple vertical columns or horizontal beams as well as complex curved or arched shapes in the timber construction sector.
The composition of the beams from small pieces of timber allows the producers to manufacture large beams from small trees. The process of laminating and gluing these pieces of timber together reinforces the features of a species- Thus softwood can be used for longer time spans, heavier loads and complex shapes in timber structures. Glulam is not only strong and cost-effective, but also highly customisable and resource efficient. As with other engineered wood products, this reduces the overall amount of wood used compared to solid sawn timbers, by diminishing the negative impact of knots and other small defects in each component board.
Worldwide, Glulam is an indispensable item in timber construction although it has not been established in Uganda yet. Most wood construction in Uganda utilises tropical hardwoods, and softwood species are not established in the construction sector yet. Glulam production would be an economical as well as an environmental benefit for the wood industry, the forests and the development of the country. Furthermore, these trees can be grown by smallholder farmers in agroforestry systems, providing them with an additional source of income.
Project goal
The idea behind the project is to increase the popularity of glulam in the wood industry and to show the potential of Mass timber products in Uganda. To get this attention, we intended to build a prototype construction made of glulam which shows the possibilities of this product. The construction should be accessible to all people and was thus placed in a public area in Kampala to expose a large target audience to the glulam construction. The idea is that the proposed prototype construction is useful for everyone, in the form of a public bench.
A wood engineer from Bern in Switzerland implemented the project of building a first small prototype of a glulam construction in Kampala in 2019. He did an apprenticeship as a carpenter and went to the University of Applied Science in Biel for a Bachelor's degree in wood technology focused on timber structures and engineering. Currently he works for Roth Burgdorf AG in Switzerland, a leading company in the production of glulam beams.
Manufacturing process
As mentioned above, there is currently no infrastructure to produce glulam in Uganda. Therefore, we had to find a simple way to manufacture this glulam beams without large investments in machines. To realise the small construction, we were working with different partners in Uganda. Globalwoods, a forest company in Uganda offered their support by providing the material of sawn lumbers from their plantation at Kikonda in Kyankwanzi. The local carpentry company KAVA International in Kampala provided its workshop and machines as well as the craftsmen to help in the manufacturing process. It was a great experience in the workshop and an interesting exchange for both sides.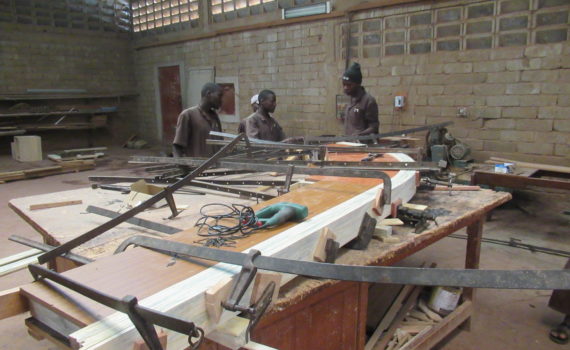 Short overview about the manufacturing process of curved beams:
Dried the wood to a balanced moisture between 10 and 15% 
Planned lumbers to a final thickness of 10 mm. This thickness was needed for bending them to a curved beam. General rule: (thickness lumbers = radius/200)
Prepared the template for pressing the beams to its final shade
Applied glue (PUR) on the lumbers and pressed 10pcs together on the template and fixed clamps to press the pieces in the right shade
Let the glue dry out and remove clamps
Planning curved pieces again on the width to have a proper surface.
Finally, we built up the bench in the workshop to be sure that everything fits before we built it up in the final position at the roundabout in Kampala.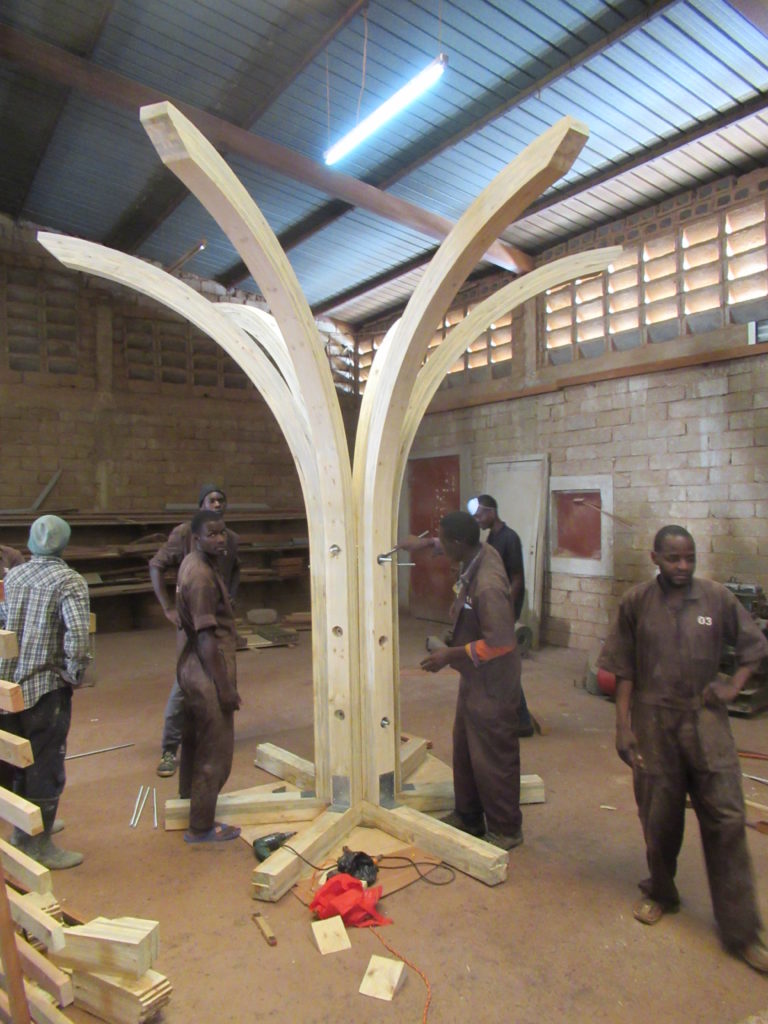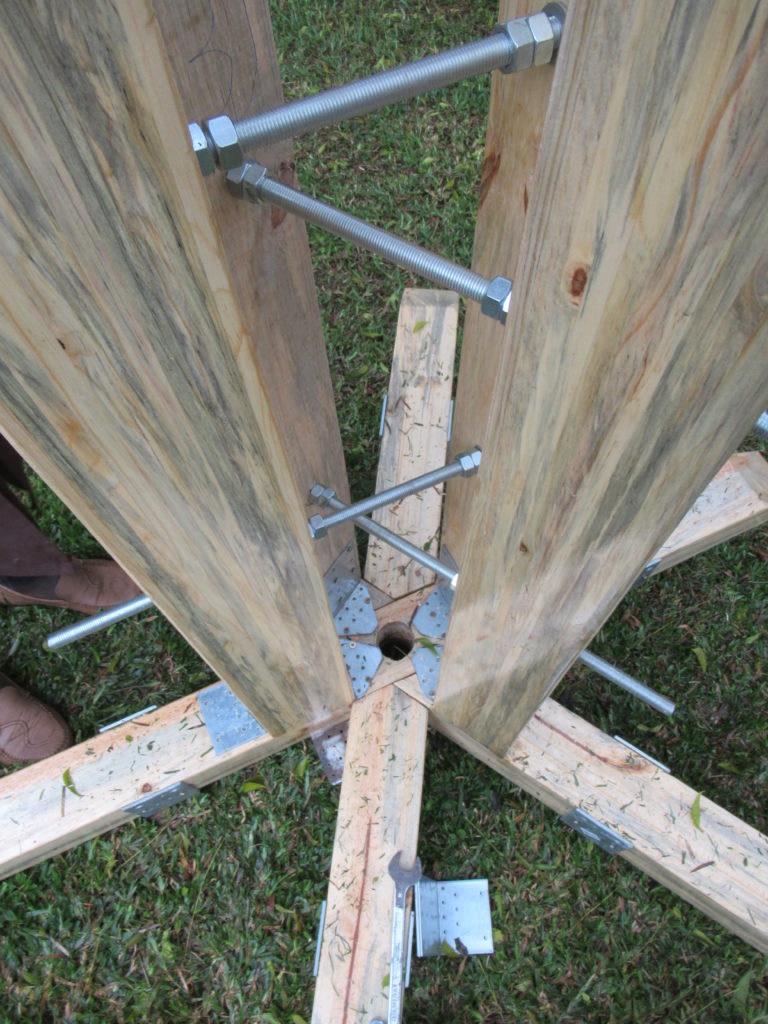 Final Outcome
Due to its ideal location on the roundabout it has attracted a lot of attention and positive feedback from many people. This interest has prompted Fairventures Worldwide to look into the beneficial contribution that the development of a professional company working in the production of Mass Timber Products. This is why Fairventures Worldwide has suggested studying this subject in greater depth and is pursuing the MTCEA project that is currently under development.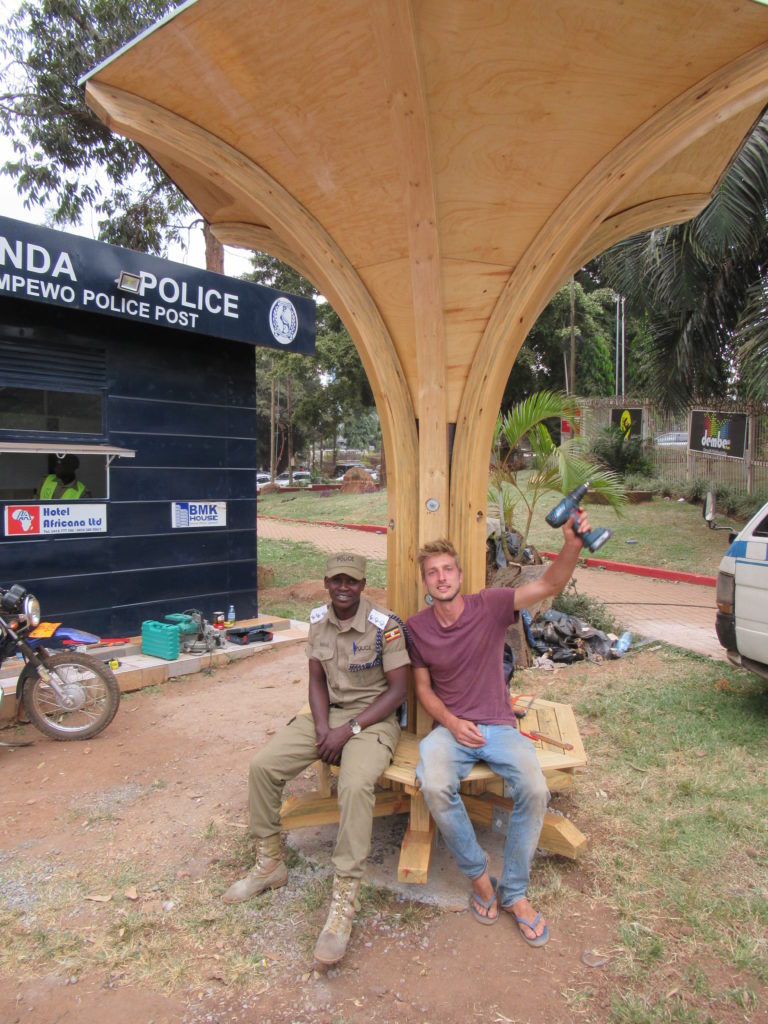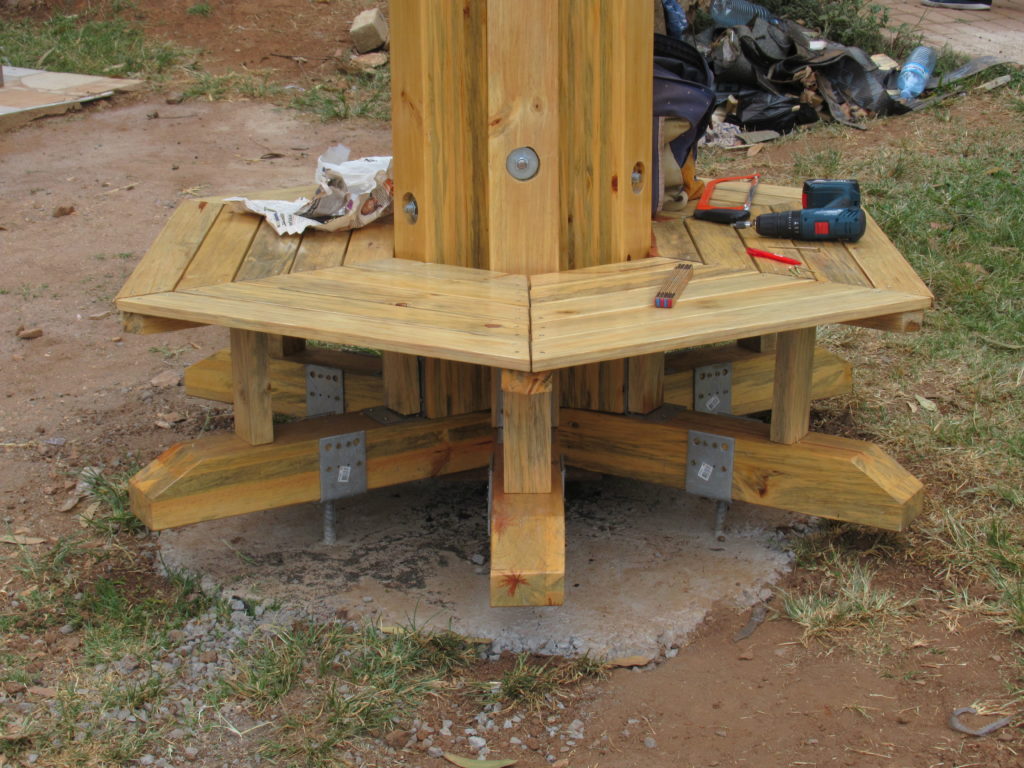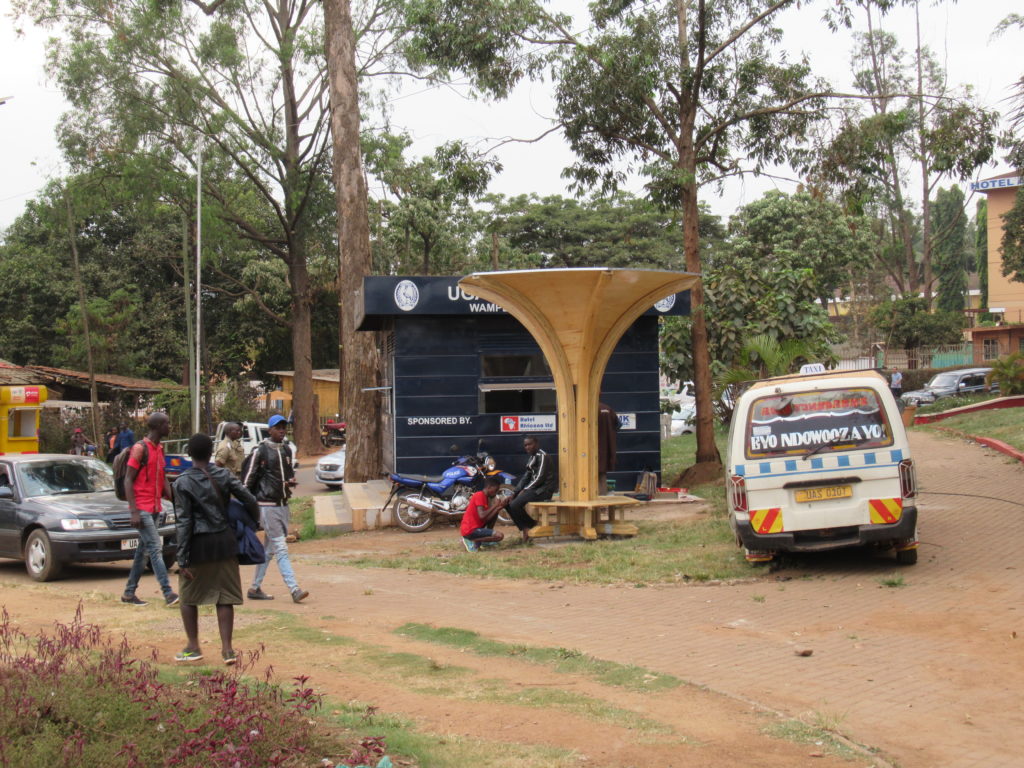 Where to find the showcase