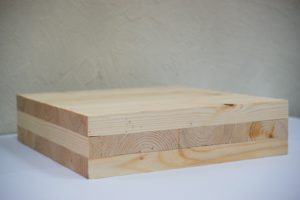 What is Cross Laminated Timber (CLT) ?
---
Product description
Cross Laminated Timber (CLT) is a Board developed to build houses. It is similar to plywood but consist of solid sawn timber instead of veneer. The layers are vertical or cross glued to each other. Outer layers have usually the same orientation, so that CLT has normally three, five or seven layers. CLT is becoming increasingly popular for timber construction due to its modularity and prefabrication degree. Per example the cutouts for doors and windows are made factory hand.
---
Specification
Cross Laminated Timber
Wood species:
Sengon, Jabon
Hybrid products Sengon/Meranti etc.

Thickness:


Depending on the application, custom made 100-400mm

Sizes:
[m]

2.4-3x12-15

Quality:

Visual quality, depending on the application

Glue:

Polyurethane (PUR), Melamine formaldehyde (MF), Urea-formaldehyde (UF)

Emission Standards available:

European formaldehyde emission standard[E0-E1] (2), Japanese Industrial Standard [F*-F****] (2), California Air Resources Board CARB (2)

Emission Standard conditions are shown
here
.
---
Application
CLT is not only a main structure material, it also offers a good thermal performance. As shown in the pictures it is probably the completest structure material and used in many different applications.