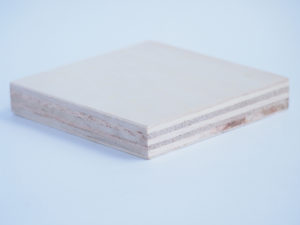 Product description
Plywood is one of the main product that is produced out of Albasia Falcata (Sengon) in Indonesia. The plywood consists out of at least three layers of veneer. These layers are cross-laminated to each other. This leads to a homogenization of the product what provides a better volume stability and less directional dependency. Standard sizes are produced referred to the domiciles standards. The main export destinations are China, Japan, USA and Europe.
---
Specifications
Plywood
Wood species:
"Core: Sengon or Jabon
Decklayer: Sengon, Jabon, noble veener and other materials"

Thickness:
[mm]

Standard: 4, 8, 13, 15, 18
Custom thickness available

Board size:
[mm]

Standard: 2440x1220, 1220x1220
Custom sizes available

Qualities:

Referring to decklayer quality

Glue:

Emission Standards available:

European formaldehyde emission standard[E0-E1] (2), Japanese Industial Standard [F*-F****] (2), California Air Resources Board CARB (2)

Emission Standard conditions are shown
here
.
---
Applications
Plywood is mainly used for furniture applications. The product is further processed and diversified.