Upon its completion in 2021, the Nanyang Technological University (NTU) will cost about $180 million Singapore Dollars (USD 135 Mio.) and will be Asia´s largest wooden building at 40,000 gross square meters.
This six-story building will house the Nanyang Business School as well as activities of several other colleges and schools. The construction material used will be mass-engineered timber from renewable forests and will be prefabricated before being installed on site, which makes it less polluting and less labour-intensive than traditional construction methods. Using Mass Engineered Timber (MET) is also a cleaner process, as the dust, debris and noise that is typically generated during construction is contained within the prefabrication factory. From an architectural point of view, this wooden building is designed with short span corridors branching into long-span lecture theatres.
Two benefits occur due to this architectural design: The use of shallower beam depths for short spans creates more space below and ensures that the building stays within its height restrictions. The fully visible MET-construction is naturally aesthetic, therefore the mechanical, electrical, and plumbing building services need to be concealed well . Steel connections will be embedded between load-bearing beams and columns within the timber, which adds to fire safety design as the building's critical components are protected by an outer layer. RSP is the project architect, in association with Toyo Ito & Associates Architects, for this new development.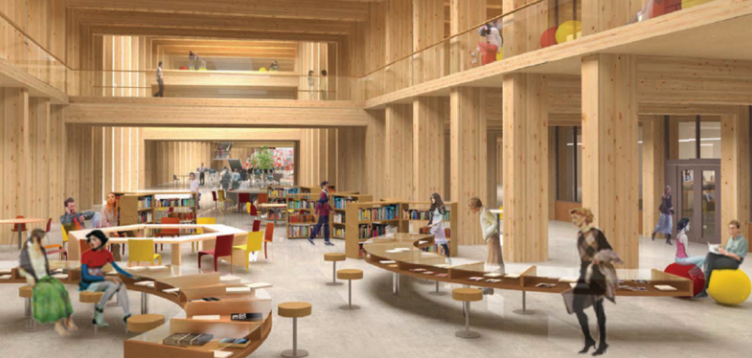 This article is compiled from the following sources listed below:
Sources:
https://rsp.sg/perspective/brown-is-the-new-green/
https://www.channelnewsasia.com/news/singapore/new-ntu-asia-largest-wooden-building-business-school-10657218
https://www.straitstimes.com/singapore/education/ntus-new-180m-business-school-to-be-asias-largest-wooden-building