Construction of the new 84-meter, 24-storey high 'HoHo Tower' in Vienna, Austria – set to be the world's tallest timber building – has been underway for over a year now.
Around 76 percent of the structure will be constructed from wood. Hoho Wien will house a hotel, apartments, a restaurant, a wellness centre and offices.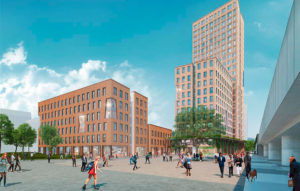 © proHolz Austria, Arbeitsgemeinschaft der österreichischen Holzwirtschaft
All included, HoHo Vienna comprises five structures with between six and twenty-four floors. The shell construction of the basement extending under the entire development and that of the underground car park have been completed. The solid concrete core is now being built and timber installation is in full swing. Assembly work is scheduled to take one and a half weeks per floor.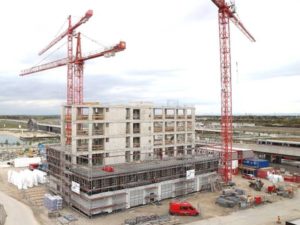 © cetus Baudevelopment GmbH
The solid timber walls will never be distinguishable as such from the outside, since a moisture barrier will have been applied to each of the individual elements before they leave the factory to protect against weathering.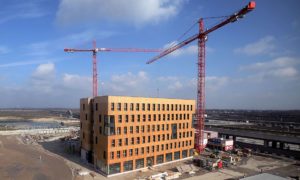 © cetus Baudevelopment GmbH
The tower that forms part of the HoHo Vienna project has one major strength: lots of building parts are prefabricated in the factory where weather conditions can be left out of account. As a result, numerous procedures are no longer necessary on the construction site itself. The HoHo Wien system, which is kept deliberately "simple", stacks up four prefabricated, serial building elements: supports, joist, ceiling panels and facade elements.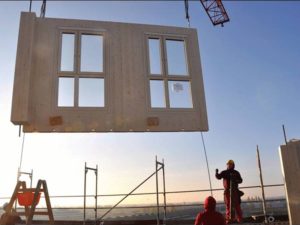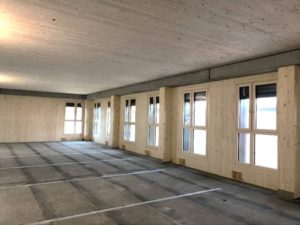 © RWTplus
In a recent interview – available in full here – Caroline Palfy, Managing Director of the real estate developer Cetus Baudevelopment, illustrates the peculiarities of such a large-volume timber project.
"The preparations and construction with wood are a tricky business, since ready solutions are not forthcoming in all areas," explains Ms Palfy. "It's all about developing new things and using them – and that's what makes this project so exciting."
"I keep getting asked whether our timber resources are jeopardised by the current timber boom in the construction industry. In Austria, forests produce 30 million cubic metres of timber a year, of which 26 million cubic metres are logged. The remaining 4 million cubic metres remain in the forest, continually increasing timber stocks. In other words, 1 cubic metre of wood grows back every second and thus the timber used for the entire HoHo Vienna project will have grown back in our country's forests in only one hour and 17 minutes."
"True to the motto 'It's time to clock off and no one wants to go home', HoHo Vienna caters to all the wishes of a new generation of blue-collar workers, white-collar employees and self-employed. The office of the future breaks completely new ground. New features are brought into league with wood, a traditional material, creating a relaxed and homey atmosphere. That is precisely our vision."
© Copyright 2018 Confederation of Timber Industries