Date : November 15th, 2021
Location : Palangka Raya, Central Kalimantan, Indonesia
Total Participants : 50 participants (offline) & 30 participants (online)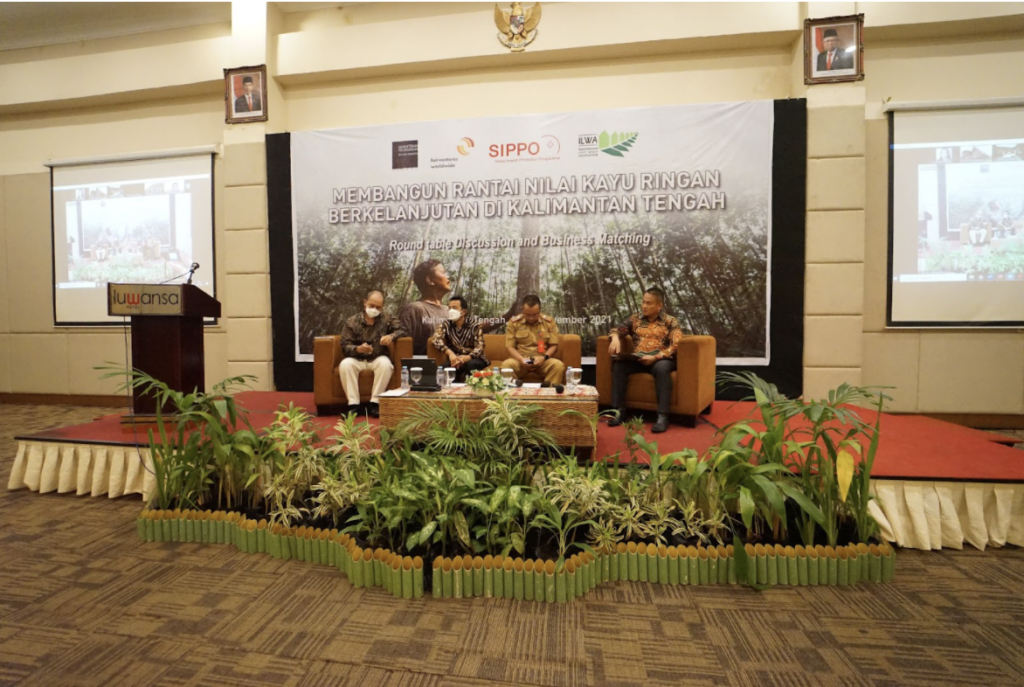 On November 15th, 2021, Fairventures Worldwide (FVW) in collaboration with the Ministry of Trade, Republic of Indonesia, recently conducted a Round Table Discussion and Match-making event with the topic "Building a Sustainable Lightwood Value Chain Timber in Central Kalimantan". The event was conducted both offline (in Palangkaraya, Central Kalimantan) and online.
This event aimed to create an understanding between all actors in the lightwood value chain in Indonesia, including the industries, farmers, as well as the government at the district, provincial and central levels in Jakarta. "Building a sustainable lightwood value chain means creating a fair market for farmers, supply of raw materials to support the timber industry, as well as monitoring to ensure that the practices carried out meet the elements of sustainability, and this will only be realized if all parties are willing to commit to make it happen," said Charles Tanaka, Timber Value Chain Manager at FVW Indonesia.
Climate change is pushing all parties around the world, including industry and business, to be part of the solution, not the problem. The result can be seen from the increasing global market demand for sustainable products. Including wood. Wood is a commodity that is hotly discussed in international business forums, because it has an extraordinary ability to absorb carbon, either when it grows, when it rots, or when the wood is cut down and made into products such as furniture or more interestingly: construction materials.
This is, of course, an opportunity and a challenge for Indonesia as one of the largest tropical timber-producing countries in the world. This market potential can be used wisely or vice versa, encouraging deforestation by cutting down the remaining forests.
The Head of Representative for FVW Indonesia, Rayanansi said "reforestation efforts will only succeed if economic and social aspects can go hand in hand". This is demonstrated by Fairventures' commitment to assist local communities in Central Kalimantan to plant fast-growing timber and cash crops of high economic value on degraded lands, as well as linking farmers with industry players to ensure market availability for farmers' products.
Central Kalimantan Governor Sugianto Sabran when represented by the Head of the Central Kalimantan Forestry Service, Sri Suwanto attended the Business Matching event between Sengon Timber Producers and Light Timber Industry Players, at the Luwansa Hotel, Monday 15 November 2021. "In line with its development, the Central Kalimantan Government is currently encouraging several farmer groups in several areas such as Katingan, Gunung Mas, and Pulang Pisau to empower vacant land to plant sengon trees. The program was produced in collaboration with the Regional Government with Fairventures Worldwide, together with the Borneo Institute, and several other foundations, to support the 100 million sengon tree program in Central Kalimantan," said Sri Suwanto.
In the event, a Letter of Intent was also signed by Fairventures Worldwide and Indonesian Lightwood Association (ILWA), witnessed by Ir. Sri Suwanto, MS (Head of the Central Kalimantan Provincial Forestry Service) and Marolop Nainggolan (Director of Export Development Cooperation – Ministry of Trade of the Republic of Indonesia).